Find a profession. Improve your German. Master your vocational training. With us!
#1 What offers are there?

Wirtschaft integriert is a project for those, who are interested in a vocational training and need help learning German. It consists of three modules:
Vocational orientation BOplus | 4-6 Months
get to know the dual training system in Germany
try out at least three different professions
make a career decision
let us find an internship or training place together
Entry qualification EQplus | 6-12 Months
internship to prepare yourself for dual training
learn German, mathematics and vocational contents on 1.5 days a week
no vocational school
internship pay
Training support ABplus | Dual training 2 – 3.5 years
regular dual training in a company and vocational school
additional support and teaching in the BWHW, 4 – 8 hours per week
trainee salary
In addition to all three modules you will be given German lessons, help in finding your way in Germany and socio-educational assistance.
#2 Why a vocational Training?
The German dual training system is seen a worldwide success model through its combination of theory and practice. A dual or vocational training, also called apprenticeship, is a great opportunity for a successful entry into the working life and manifold career chances. You receive a training salary from day one. There is a great demand for trained specialists in German companies.
#3 Who can participate?
Everyone who…
… wants to build a professional future through an apprenticeship
… needs help with learning German
… has or can have an employment permit
You should speak German on the level A2 or B1 of the Common European Framework of Reference for Languages. That means you can understand a simple conversation, because we only speak German with you. You can participate on one, two or all three modules. Participation is free of charge!
#4 Childcare
Do you have small children? We support you to find a place in childcare. For the vocational orientation [BOplus] we can even organize temporary childcare in one of our sites until you find a place in a regular kindergarden or childcare.
#5 Where can you participate?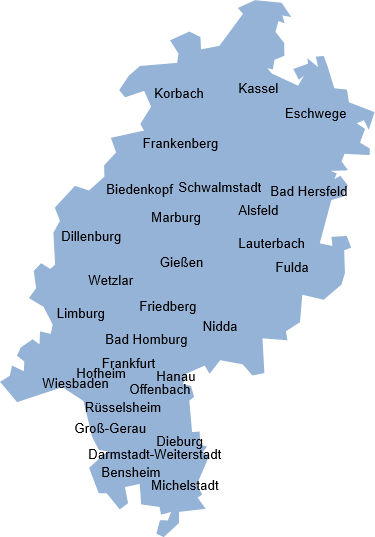 You can participate on Wirtschaft integriert in selected educational institutions and BWHW sites all over Hessen.
#6 How to get in contact?
Wirtschaft integriert is a federal project of the Hessian Ministry of Economics, Energy, Transport and Housing. The project is funded by financial resources of the Hessian state. The employment agencies and job centres contribute to the internship payment during the entry qualifications.